Learn to hang glide with us
Experience the exhilaration of free flight as you learn to fly safely with the longest established registered school
Welcome to the Peak District Hang Gliding Centre. We have been an established flight training school since 1974 and are now the longest established school in the UK!

Please take your time looking through the website and allow us to introduce you to some of the incredible pleasures of this sport.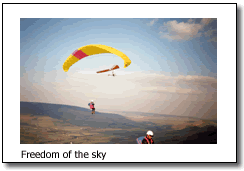 Weather check
Check the latest weather report for the hang gliding school's area here.
http://www.meto.govt.uk/datafiles/BBPMS.html
New Forum
Check out our new hang gliding forum moderated by Mike Orr the chief flight instructor of Peak Hang Gliding.
To go there now please click here
Gift Vouchers
Gift vouchers are the ideal gift for any special occasion. Why not take a look at our special offers here